Registering for PortConMaine is easy! And it includes every event at the convention. You can either register at the door or pre-register ahead.
Pre-registration means your tickets will be waiting for you at the door when you arrive at the convention. After the deadline of June 1st, you'll be able to buy tickets at the door if you are not pre-registered. There are always tickets available at the door- if they sell out in advance notice will be made on the website and on all social media feeds.
There are two ways to register ahead for PortConMaine: via mail in form or online registration. Online registration receives an email confirmation. Online registrants will not be listed online.
Mail in registrations will be available with confirmation via a list online. This list will only include an abridged name and badge types with numbers.
ID, receipt, and/or email verification will be required for entrance to the event.
Mail in Form: (Click the image for a larger version!)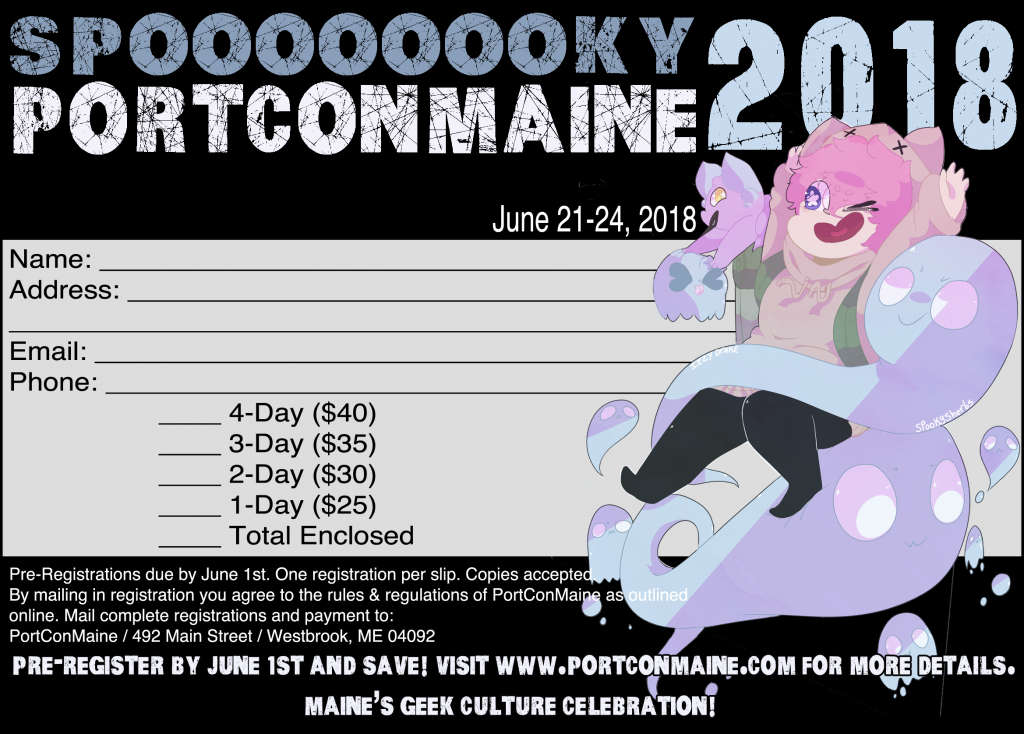 Online Registration: We complete online registration through Eventbrite. This offers you a receipt of payment as well as your paypal receipt. If you are registering a child, or a group, please use the mail in form. There is no option for online registration of children or groups.
Here is the online registration form!
(Lifetime Passes are limited to 10 per year online, and 1 at the auction. Once sold out, they are sold out! First come, first serve. Lifetime Passes are non-transferable, and only valid for the named holder. Once purchased, that holder will have access to every PortConMaine ever run. The badge will be available at the convention for all days the convention run. Additional events, such as the 2015 month long events, are not covered- rather the holder is considered "pre-registered" and will pay whatever fee is listed for pre-registered attendees. Lifetime Passes are non-refundable.)
Registration Rates:
| | | | | |
| --- | --- | --- | --- | --- |
| | 1 DAY PASS | 2 DAY PASS | 3 DAY PASS | 4 DAY PASS |
| Pre-Register Before June 1st (Online or Via Mail) | $25 | $30 | $35 | $40 |
| Register After June 1st (AT the convention) | **$30 | $35 | $40 | $45 |
**Sunday Family Discount: Starting in 2017, attendees who arrive Sunday and buy a pass at the door will receive a discount. Sunday only at the door rates are as follows: $15 for adults, $5 for children, and free for children 5 or younger. 
Days are selected when you arrive at the convention for badge pick up. No badges will be mailed in advance. You arrive with a copy of your online receipt or ID to pick your badge(s) up at the convention and you are good to go! FMI please continue reading.
Refunds for the year of the convention will not be made past June 1st of that year. No refunds will be made at the convention.
Only cash is accepted weekend of. There is an ATM on site if needed.
Lost or stolen badges will not be replaced during the event. Please understand that it is standard convention policy NOT to replace lost or stolen badges. Make sure when you leave your hotel room, house, car, etc, that your badge is on you at all times.
Attendance Cap:
Our attendance cap is when we reach fire code limit within the hotel space. As of yet, we have not met it- due to the flow between the hotel and the mall we have never reached attendance cap within the hallways and/or convention rooms. If we reach mass capacity; we will cease selling badges at the door and announce via the website and on social media. If this is a concern, please register ahead by pre-registering before June 1st.
Badges will be sold at the door as well as in advance.
Group Rates:
Groups of 10 or more can take an additional $5 off the cost of each of their pre-registrations (it doesn't matter if it's a 4-day, 3-day, 2-day, or 1-day). Groups MUST mail their forms in together to secure the rate. Mail in forms only, by the registration deadline.
Child Rates:
Children under the age of 12 (meaning 11 years old or younger) may attend at half off with an accompanying adult. Children 5 years or younger are free. Children pre-registrations MUST be mailed in to secure the rate. There is no online pre-registration available for children. At the event, children badges will be sold with discount applied.
Parent Rates:
We currently work within the restraints of a hotel that can only fit so many people. Due to this restriction, we do not offer free or discounted badges to parents. We thank you for attending and supporting your children in their interests and hobbies; but other than staffing or badges for children 5 years or younger, there are no free badges. If you are interested in staffing, please consider applying for staff.
Other Miscellaneous Registration Questions:
If you have any other questions regarding registration (such as you are a care giver, or you wish to give registration as a gift, etc) please contact us directly and we will get back to you as soon as possible.