We have several methods for businesses and people to get involved with PortConMaine to promote their businesses and organizations.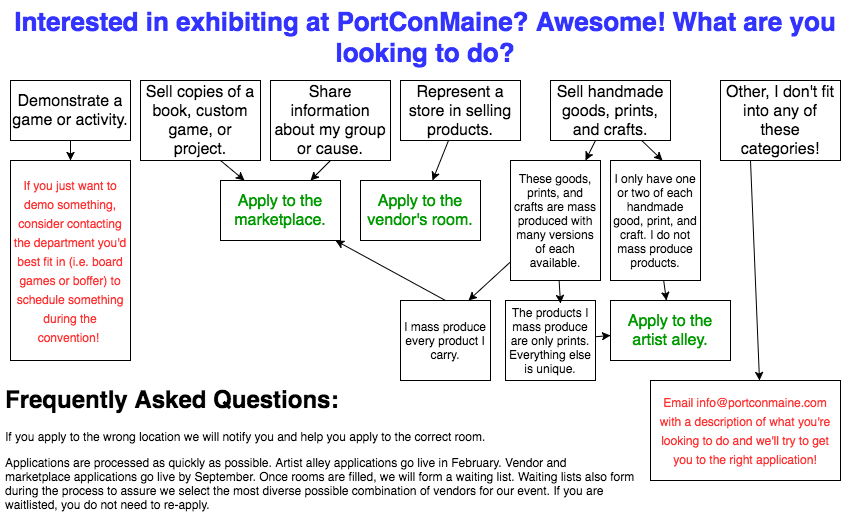 Vendors Room: This is for businesses only who have business licenses, storefronts and/or a web presence, and licensed mass produced goods to sell. Please visit our vendor page for more info.
Marketplace: For guests, authors, organizations, and other groups who are neither strictly vendors or strictly traditional artists. Visit the marketplace page for more info.
Artists Alley: This is for businesses and individuals who create their own goods for sale. This includes: self publishers, artist guests, and craftsman of all kinds (including music, toys, art, jewelry, etc). Please visit our artist alley page for more info.
Sponsorship: This is for any business or individual who would like to support PortConMaine via donation of goods or services. Visit our sponsorship page for more info.
Distribution of Fliers/Business Cards/ Etc: If you would like to have fliers, business cards, etc, passed out at the convention please make the appropriate amount of copies (if you want 1 for every attendee we will need 2,500 copies) and mail them to: PortConMaine / 492 Main Street / Westbrook, ME 04092 by June of the convention year. All content must be suitable for all ages. We reserve the right to not distribute fliers sent. If you have questions or need more info please feel free to email.
Cross Convention Promotion: When more space is available, we will also start to accomidate cross convention tables so other organizations can promote their events at PortCon as well. At this time, we do not have the space for other events to have tables at our event. We would love to hand out fliers or put your convention information in our registration book. Contact us today for more information.