PortConMaine is Anti-Bootleg!
All applications must be reviewed and approved by PortConMaine staff before payment is made. Please email us for details, space requests, or to be put on the waiting list if applicable.
PortConMaine is a bootleg free zone. Vendors who bring bootlegs will be asked to remove their product and if necessary leave the convention. Please keep this in mind if interested in applying for a convention booth as we have a history of not inviting vendors back, asking vendors to leave during the convention, and asking that bootleg products be put away during the event as necessary. As of 2010, we have begun the process of inviting industry related guests to come into our vendors room and confirm potential issues on the floor that are dealt with weekend of. The vendor contract has all the details in regards to our bootleg policy.
If any attendee spots a bootleg during the convention please immediately bring it to the attention of convention staff. If you see something, say something! We will have several staffers, convention guests, and industry representatives checking the room throughout the weekend.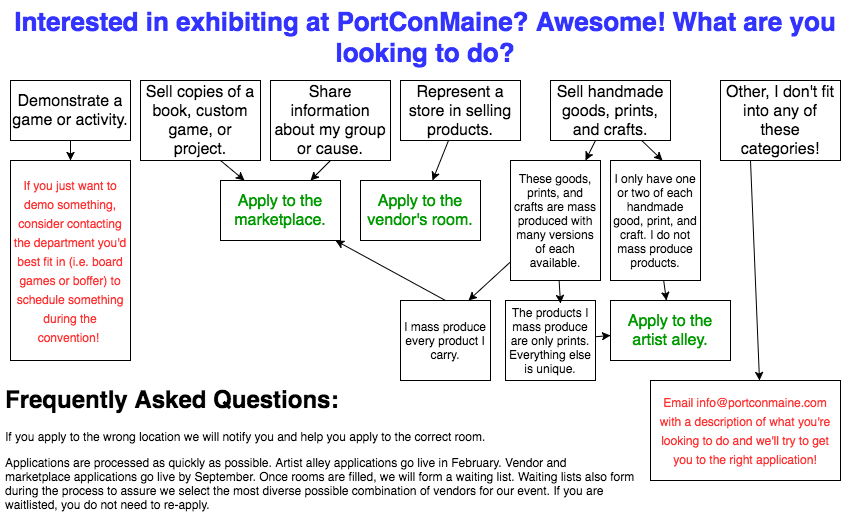 Vendor Space is Currently:  OPEN. Please confirm which room you should apply for before applying. Here is information on all our exhibitor spaces!

Here is the contract and agreement information! Please read this contract and agreement for the terms of being a vendor. This link includes policies, set up times, etc. 
Please note that a working, non-social media website is a prerequisite for approval.
Confirmed Vendor List:
The Tomb

More coming soon!