PortConMaine has a marketplace! This space is for authors, costumers, organizations, and other miscellaneous groups that may want to sell and display at the convention but who might not fit elsewhere. The hours for the space match the hours of the Artist Alley. The space is directly next to the alley, with a door between for easier traffic flow.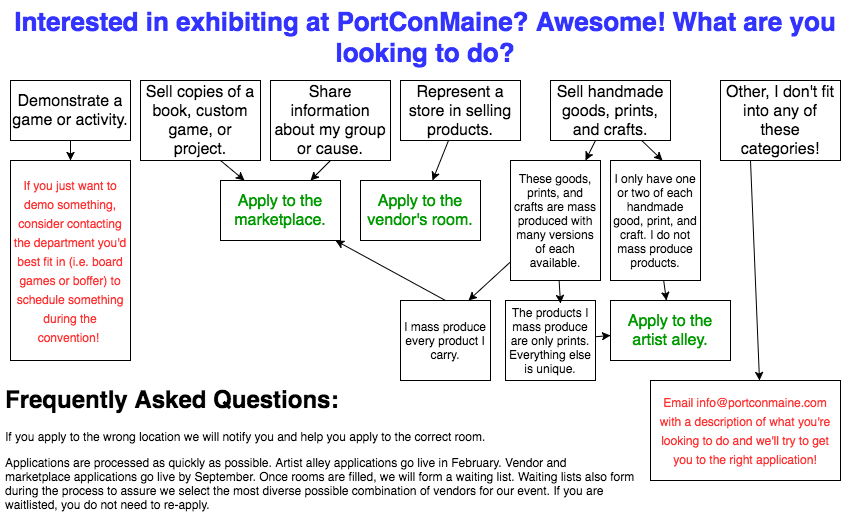 ---
APPLICATION STATUS: OPEN! Apply here!
Current Marketplace Vendors:
---
TABLE COSTS
Full Table: $150
Each table comes with 2 4-day passes.
---
ROOM HOURS
Thursday
Set-up Only – 4PM to 7PM
Friday
Set-up Only – 8AM to 11AM
Open – 11AM to 8PM
Saturday
Set-up Only – 10AM to 11AM
Open – 11AM to 8PM
Sunday
Set-up Only – 10AM to 11AM
Open – 11AM to 4PM
---
How do I check in?
Marketplace exhibitors can check in at the Info Desk. Additional badges can be purchased through convention registration.
When do I need to check in by?
All exhibitors must be checked in by 2PM ET on Friday. Tables not claimed by 2PM on Friday will be considered forfeited. If you need to make arrangements to arrive later than this time, please contact staff ahead.
Can I get access to electricity?
We can't make any guarantees. If you've been selected to participate and need electricity, please let staff know via email as soon as possible and we will do our best to accommodate you.
Can I get internet access?
Though the convention hotel does have wireless Internet, we cannot guarantee uninterrupted access to it. The network sees very heavy use during the event.
What if I need something at the convention?
During open hours, there are always Art Staff members at the staff table within the artist alley, which is connected to the marketplace. Feel free to stop by if you need anything. Staff members will be making their rounds and checking in throughout the convention. If you need something and you see a Staff badge walk by, flag them down!