The Garage Sale is now live!
Please read the Terms and Conditions located below. Many questions can be answered there.
To participate in the Garage Sale, you need to create an account. Please use valid information; no handles, nick names, event name, or false information. The requested information is for the Garage Sale staff to use to contact you and for sales tracking.
Here are some guidelines to consider for labeling your products.
Print clearly and large
Place in a easily to find spot
Use Zip-Loc style bags for small items
Group common cards as a deck or box set
Costumes/clothing/plushies need to be attached with safety pins
Books/DVD sets should be bundled or tied.
Make sure that your labels have the Name of the product, the Item number, the Account number and the Price.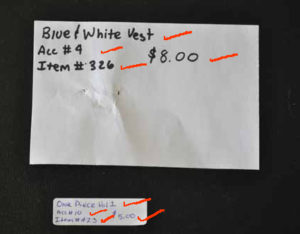 Label Examples
These two items would be considered acceptable because they have all the information requested, in a visible space and is easily read.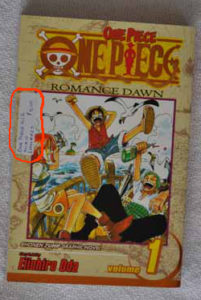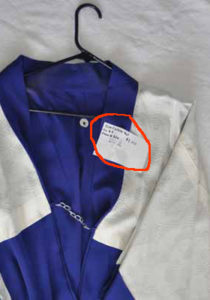 These two items would not work well because they are missing information and can be easily lost.
IMPORTANT IMPORTANT IMPORTANT IMPORTANT IMPORTANT
Please read and understand the following:
Terms and Conditions
In order to sell your items in the PortConMaine Garage Sale you must submit an itemized listed from the website. This form needs to be submitted and any changes to your entries must be made no later than the Monday of the Convention Week. Any forms submitted after will not be accepted. To complete the itemized form you must comply with the terms and conditions set forth. Please make sure you fill out the form completely to ensure proper payment. Any information that you share with PortConMaine Dealer Room staff will adhere to any and all terms set forth with the Privacy Terms of PortConMaine.
Pricing and Commission
All items must be clearly labeled with your selling price. They must be individually priced with the item number provided. This will ensure proper payment at the end of your sale. The Garage Sale staff will not barter your items for you, so you must price your items accordingly. Once you have submitted the itemized list you will receive an email from the Dealer Room Chair with your Seller's ID and Item IDs. The Garage Sale will deduct 15% of your total earnings in order to sell your products as proxy. Additional items not on the submitted list will not be accepted.
Each person is able to submit a maximum of 50 items total. Any amount over that total may be removed by Garage Sale staff.
Items which may NOT be sold at PortConMaine include:
"Knockoff" or bootleg merchandise (for example: Son May and Ever Anime CDs).
"Grey Market" CDs (re-imports from other Asian countries)Bootleg videotapes, video CDs, or DVDs (this includes bootlegged videos recorded on blank videotapes with printed labels; pirate copies of any titles that have been released commercially in the United States, Japan, or elsewhere; titles taped off the air in Japan—and any and all fansubs).
Any posters, idol cards, etc., which read "Kodak," "Fuji," etc. on the back.
Unlicensed reproductions of any products actually released by an American company.
Items that do not have an authentic licensing number or genuine marker.
Payment and Product Pickup
When you pick up your earnings and your products must be picked up as well. Once you have collected all your items you will not be allowed to have the Garage Sale Staff redisplay them again. All items must be picked up by Sunday at 3:00 PM. Any items not picked up or funds collected will be donated to PortConMaine. If you are unable to collect your items and wish to allow somebody else to, please make prior arrangements with the Vendor's Room Chair.
The Garage Sale staff will make sure there is no loss to the products you sell. In the event that an item is missing, and as unfortunate as it is, neither the Garage Sale nor PortConMaine can be held liable.
If you have any questions, concerns or comments please contact the Garage Sale coordinator at PCMGarageSale@gmail.com
By clicking on the link below, you agree to the above terms.
APPLICATION COMING SOON!