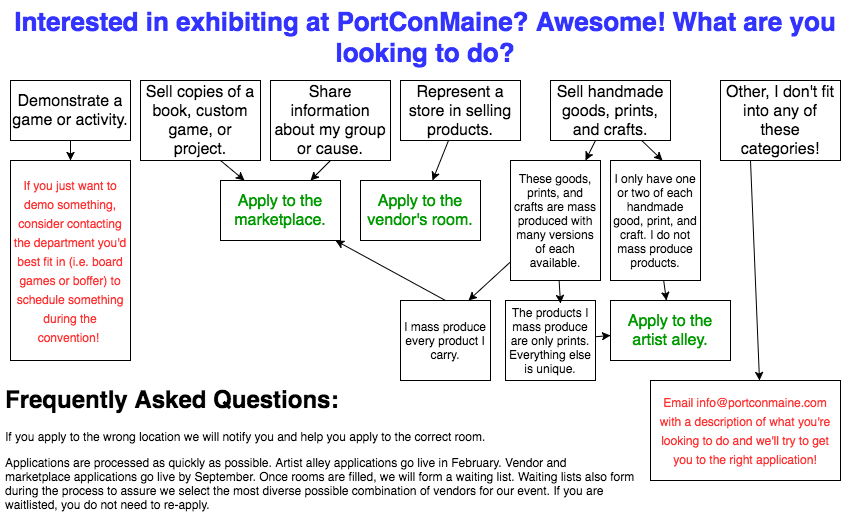 The PortConMaine Artists' Alley is a place for artists to create, sell, and talk about their work. As in past years, participants in the 2018 Artists' Alley will be selected through a juried process. Artists' Alley tables are available to non staffers who will be 18 years of age or older by the time of the convention.
---
APPLICATION STATUS: OPEN!  CLOSED
The jury is currently deliberating on the list of applicants. Selected artists will be notified by the end of the day on March 1st.
---
TIMELINE
Thursday, February 1st:
Artists' Alley application form goes live.
Friday, February 16th:
Last day to submit Artists' Alley applications.
Thursday1, March 1st:
Artists' Alley lineup announced on this page. Confirmation emails will be sent to all approved participants during the following days.
---
TABLE COSTS
Half Table: $60
Full Table: $80
Both options include 1 (one) 4-day convention badge. Additional badges may be purchased by request.
There is a one table limit for artist vending. Additional space beyond one table may not be purchased. Tables are roughly 6 feet by 30 inches, though this can vary depending on what the hotel supplies.
---
ROOM HOURS
Thursday
Artist Set-up Only – 4PM to 7PM
(Artists' Alley Closed)
Friday
Artist Set-up Only – 8AM to 11AM
Artists' Alley Open – 11AM to 8PM
Saturday
Artist Set-up Only – 10AM to 11AM
Artists' Alley Open – 11AM to 8PM
Sunday
Artist Set-up Only – 10AM to 11AM
Artists' Alley Open – 11AM to 4PM
---
FREQUENTLY ASKED QUESTIONS
What can I sell in the alley?
You may only sell artwork of your own original design or craft.
What can't I sell in the alley?
Tracings or digital reproductions of work created by somebody else are not allowed. Artwork that uses work created by somebody else as a base is also prohibited.
Can I sell fanart?
You may sell fanart, but the design of the piece overall must be your own original composition and work. If you do create fanart, we encourage you to thoroughly research the topic and heed any wishes that the creator of that property may have. If you have any questions about what is acceptable in the Alley, please email us.
Can somebody else sell my artwork in my place?
It is preferred that the artist themselves be present to interact with their fans and patrons. Please contact Art Staff to discuss such arrangements if needed.
How do I check in?
Artists can check in at the Info Desk. Assistant badges can be purchased through convention registration.
When do I need to check in by?
All Artists must be checked in by 2PM ET on Friday. Tables not claimed by 2PM on Friday will be considered forfeited. If you need to make arrangements to arrive later than this time, please contact Art Staff.
Can I get access to electricity?
We can't make any guarantees. If you've been selected to participate and need electricity, please let Art Staff know via email as soon as possible and we will do our best to accommodate you.
Can I get internet access?
Though the convention hotel does have wireless Internet, we cannot guarantee uninterrupted access to it. The network sees very heavy use during the event.
Will the alley be locked at the end of the day?
The Artists' Alley will be locked at the end of each day, but please be advised that convention staff may access the space under the supervision of a department chair during the off-hours. Hotel staff also has access to the space at all times.
What if I need something at the convention?
During Artists' Alley hours, there are always Art Staff members at the staff table. Feel free to stop by if you need anything. Staff members will be making their rounds and checking in throughout the convention. If you need something and you see a Staff badge walk by, flag us down!
Art staff can be contacted at art.portconmaine@gmail.com.