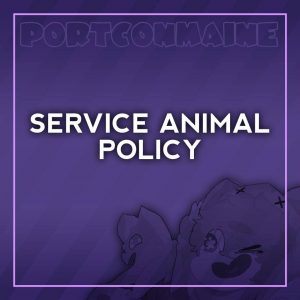 PortConMaine works hard to help meet the needs of our many and diverse attendees, including those with allergies or other concerns over animal contact. In light of this, the convention area is reserved for service animals only.
Maine state law requires that only dogs can be designated as service animals. According to Maine State Law (http://www.maine.gov/mhrc/news/ServiceAnimal.html), in PUBLIC ACCOMMODATIONS (places or services open to or serving the public, whether publicly or privately owned), a person with a disability is entitled to have the assistance of a service animal only.
During our event, assistance animals, emotional support animals, and pets will not be allowed in the convention and restaurant area. These animals can be outside or in personal hotel rooms, as approved by the hotel ahead. Please read the hotel policy (http://doubletree3.hilton.com/resources/media/dt/PWMMMDT/en_US/pdf/en_PWMMMDT_PetPolicy_Oct2016.pdf) regarding pets and animals in hotel rooms as they may not be left in hotel rooms alone.
A service animal should not be incorporated into any cosplay. By law, it is required that the service animal be under the control of the owner.
As a reminder: service animals are working animals. General attendees will be reminded to not approach or attempt to interact with the dogs while they are on duty.