As a reminder to all PortConMaine has two very important policy documents now online- our service animal and access policies. Along with our general rules, tech policies, and weapon and prop policies– all of the information regarding attending the convention in a fun, safe environment are now online!
Since the Service Animal and Access Policies are fairly new and unknown, we will be promoting this information throughout the year. Any questions? Please contact us as needed!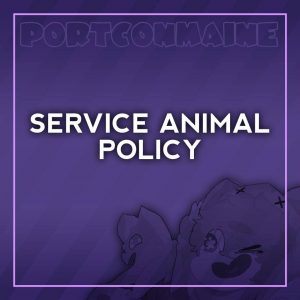 PortConMaine works hard to help meet the needs of our many and diverse attendees, including those with allergies or other concerns over animal contact. In light of this, the convention area is reserved for service animals only.
Maine state law requires that only dogs can be designated as service animals. According to Maine State Law (http://www.maine.gov/mhrc/news/ServiceAnimal.html), in PUBLIC ACCOMMODATIONS (places or services open to or serving the public, whether publicly or privately owned), a person with a disability is entitled to have the assistance of a service animal only.
During our event, assistance animals, emotional support animals, and pets will not be allowed in the convention and restaurant area. These animals can be outside or in personal hotel rooms, as approved by the hotel ahead. Please read the hotel policy (http://doubletree3.hilton.com/resources/media/dt/PWMMMDT/en_US/pdf/en_PWMMMDT_PetPolicy_Oct2016.pdf) regarding pets and animals in hotel rooms as they may not be left in hotel rooms alone.
A service animal should not be incorporated into any cosplay. By law, it is required that the service animal be under the control of the owner.
As a reminder: service animals are working animals. General attendees will be reminded to not approach or attempt to interact with the dogs while they are on duty.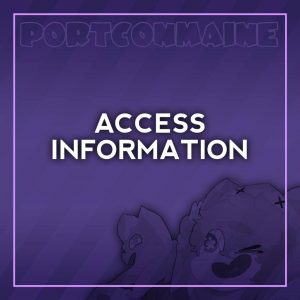 Based on attendee feedback, PortCon is proud to offer optional Priority Access Stickers that can be attached to your badge to make it easier for volunteer staff to identify if you might need extra assistance or other accommodation when attending an event or panel. Just ask at the info desk for more information.
For those attendees who may not wish to use a sticker, another option is to advocate at events by speaking to any staff member and requesting directly those additional supports. See examples and more details below.
Any community member who needs express access to events due to a special need should see security to bypass the line. Once at the security or staff member helping with line control, they can either show their sticker or directly request access. Security members wear bright vests labeled security, and staff members have special badges labeled staff. If either can not be found, please check at the security desk by the main entrance and assistance will be given.
Room clears do not apply to attendees with disabilities.
Access to the Doubletree for those with disabilities is available through elevators and ramps. If the hallways become too crowded for easy movement, please seek a staff member for assistance. They will help to clear a path.
If issues arise during the convention (such as non-handicap vehicles in handicap designated parking spaces or handicap bathrooms being used for changing costumes), please notify security immediately.
PortConMaine's hotel block from the Double Tree By Hilton has several rooms that are accessible for those with disabilities. If needed, please make sure to notify the hotel when booking. Other local hotels offer rooms with additional access features as well, so be sure to inquire while booking.
The sidewalks at the mall have some ramp issues, particularly on the shortest path from the hotel. However, ramps are available further down the sidewalk and the mall has been notified of the current issues.
In the event of a seizure or other medical emergency, PortConMaine is legally obligated to contact 911. Once EMTs arrive, they will make the call about use of an ambulance and any further medical actions.
For those attendees who may struggle with the convention environment, PortConMaine has a few suggestions for alternative methods of self-care:
If you need a quiet space there is a quiet lounge available in the main convention space, as well as a family-oriented quiet lobby in the new hotel next door.
If you need emotional assistance for any reason please ask any staff member and they will do their best to help you find assistance. Staff are not trained professionals and by no means assume that responsibility.
PortConMaine values all of our community members and wants to make sure everyone's needs are met. If you have further questions, comments, or concerns, please feel free to contact us at info@portconmaine.com. If an issue arises during the convention, please bring the issue to a staff member. We will work to make sure it is solved as quickly as we can.
If you need professional help, please call the appropriate channels including, but not limited to, your doctor, the hospital, or emergency services.