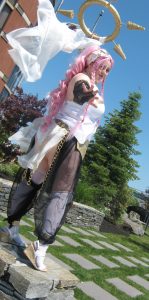 Ellie Hillis is a blogger, reporter, podcaster, comics historian, and cosplayer. She is a reporter and founder of Acts of Geek (actsofgeek.com), and a featured contributor for Geek League of America (geekleagueofamerica.com) and the Geek Initiative (geekinitiative.com).
A graduate of Smith College, she wrote her senior thesis, The Surviving Superheroines: Costume, Sexuality and Identity of Female Characters in Superhero Comics, with Professor N. C. Christopher Couch. She has a number of upcoming scholarly articles, and has contributed to a number of presentations and showcases on graphic novels and comics, most recently "Direct Action Comics: Politically Engaged Comics and Graphic Novels" at University of Massachusetts Amherst.
She is a Director at a New England non-profit, and has managed social media for nerdcore rapper MC Lars. Her writing has been featured in a variety of RPGs published by Spectrum Games (http://www.spectrum-games.com/), and she is currently beta testing her RPG "Best Friends Forever! Magic, Adventure, Sparkles, and Hugs".
Her costumes (karaprydecosplay.tumblr.com) have been featured in Comic Alliance's Best Cosplay Ever (This Week), Marvel Comics publications, IDW Publishing, and ScienceFiction.com.